On August 3rd 1938, the Second Sino-Japanese War was in full swing. During an engagement between the Republic of China's Air Force and the Japanese, one Chinese pilot, flying the Gloster Gladiator Mark I, engaged three Japanese Mitsubishi A5M carrier-based fighter aircraft. When the leading plane came in for the kill, he deliberately rammed his Gladiator against it, exploding both aircraft. Somehow, the Gladiator's pilot suffered minor injuries and burns. All that could be recovered from the aircraft was the machine gun, and when the pilot faced his commander, he asked if he could "have another plane to go with his machine gun." Although they were in China, they spoke English with one another. Because the Chinese pilot was a US-born Chinese-American, Arthur Tien Chin. He became America's First Fighter Ace of the Second World War.
Road to China
Arthur Tien Chin was born on October 23 1913, in Portland, Oregon. He was the first of six children to a Cantonese father from China's Guangdong province and a Peruvian mother. His grandparents on both sides emigrated to the United States.
When Japan invaded Manchuria after the Mukden Incident, Arthur felt motivated to come to China's aid. Decades later, when a reporter asked him why he went, he simply replied: "China called me." He wasn't the only one, and according to the Federal Aviation Administration, it became a mission of the Chinese-American community to train promising pilots for military duty in China. Around 200 men and women received training in the United States and ended up serving in China.
In 1932, just 18 years old, Arthur enrolled in aviation training under Allan D. Greenwood, Oregon's aeronautics inspector. Thanks to Chinese businessmen's generous donations ensured 34 young Chinese-Americans could take courses at Swan Island Airport in Portland.
In December that year Art was appointed as a warrant Probationary Pilot. Not in the United States, though. To provide some context about 1930s China: several Chinese provinces were still governed by warlords, often only giving token allegiance to Chiang Kai-shek's nationalist government. As such, provinces often had their own air force – 16 when the Chinese-American pilots arrived. Together with between 11 and 15 other Chinese-American pilots, Arthur joined the Cantonese Air Corps of Guangdong. Their pay was no more than the equivalent of 25$/month, which stood in sharp contrast to the later-established American Volunteer Group pilots, who received the equivalent of 500$/month.
In 1933 he was promoted to Second Lieutenant. Three years later, Canton's Air Corps merged with the Republic of China Air Force, which mainly used the Curtiss Hawk IIs. Some sources indicate it wasn't a merger, but Arthur and his fellow pilots defected to the Republic's Air Force.
At any rate, the merger proved to be a unique opportunity for Arthur. Thanks to the deep ties between China's nationalist government and Germany at the time, Arthur and John Wong, one of his fellow U.S.-trained pilots, were provided the opportunity to receive training in Germany. Both pilots enthusiastically accepted, and they received air-to-air gunnery training at the Luftwaffe's Lechfeld Air Base.
After successfully completing his training in Lechfeld, he was promoted to First Lieutenant and briefly served as a flight instructor back in Guangdong. It appeared his main handicap in his social life was that he spoke Cantonese with an American accent. Not really a handicap at all, and photographs reveal him sporting a thin pencil-shape moustache and a pipe. He became known as a ladies man. But he soon met and married Eva Wong, daughter of the Chinese diplomat Wu Tingfang. The couple had two sons, Gilbert and Steve.
During this time, Arthur received command of the 6th Squadron, and in June 1937, he was appointed as Vice Commander of the 28th Pursuit Squadron, part of the 5th Pursuit Group. The squadrons part of the 5th Pursuit Group consisted of Chinese pilots, with the occasional Chinese-American pilot. They flew the Curtiss F11C Goshawk, known simply as the Hawk II, an American naval biplane fighter aircraft. The Chinese Nationalist Air Force purchased 52 Hawk IIs, and the squadron Arthur served in would see some real successes with the plane. Still, the plane's design and qualities were soon outdated, having an open cockpit, a fixed landing gear and two rifle-calibre machine guns.
There was ample opportunity to achieve aerial successes because on July 7, 1937, a firefight between Chinese and Japanese troops at the Marco Polo Bridge caused irreconcilable conflict. The already abysmal relationship between Japan and China escalated into a full-fledged war.
War in China
By August 1937, the Imperial Japanese Navy began launching a steady stream of bomber raids against China's Chuyung airbase in Nanking. The entire 5th Pursuit Group, of which Arthur's 28th Pursuit Squadron was part, was deployed to defend it.
On August 16, the Japanese launched their first two raids against the Chuyung airbase. Six Mitsubishi G3M "Rikko" bombers reached the airbase by 10 AM that morning. Due to foggy weather, the Air Raid Warning Net didn't warn any Pursuit Squadron in time. Both Arthur's 28th Squadron and the 17th Squadron, stationed at Chuyung, had to prepare their aircraft in haste to fend off the Japanese.
The subsequent aerial battle is documented in relative detail. Due to the raid's late warning, only a few pilots managed to intercept the Japanese bombers in time. Among them was Arthur. Yet by the time their Hawk II's reached the bombers, the first few Mitsubishi's already dropped their bombs on the airfield. The Hawk II's weren't really out-of-date but had difficulty keeping up with the Mitsubishi's.
Nevertheless, Commander of the 17th Pursuit Squadron, John Wong, managed to score three victories against the Japanese bombers. Quite an impressive feat. As for Arthur, he pursued another Mitsbushi, caused significant damage, but was unable to keep up with it. Still, records state the Japanese pilot ended up crash-landing off Korea's southern coast. His plane had been hit 58 times, but the pilot and gunner both survived. Arthur's Hawk II didn't survive the battle unscathed: it was hit 'many' times during the pursuit, although it received no irreparable damage. Interestingly enough, The Republic of China Air Force awarded Arthur a victory, even though Arthur never confirmed he saw the aircraft crash (and as we now know, the aircraft had to crash-land).
Due to the shortage of equipment and difficulty organising China's defence against the invading Japanese, the 28th Pursuit Squadron was split up into two after this battle. Captain Chan Kee-Wong was sent to north-eastern China, whereas Arthur received command over the remaining four Hawk IIs. They were stationed in southern China, in Guangdong, to protect the Shaokuan Aircraft Factory.
In September that same year, another Japanese air raid by Mitsubishi G3M bombers targeted the Hankou-Guangdong Railway. Arthur's Hawk IIs, supplemented with three Hawk IIIs, flew against the raid. Arthur didn't claim a kill during the subsequent dogfight. However, although the Hawk II's shot none of their planes down immediately, Japanese records show one of the G3Ms crashed above sea after running out of fuel and being severely damaged. As it appeared, it was Arthur's Hawk II that did the bulk of the damage.
New Equipment
In October, Arthur's 28th Pursuit Squadron received good news: China's Nationalist government had purchased 36 Gloster Gladiator Mark Is. These British-built biplane fighters were a welcome addition to the outnumbered and outclassed Chinese air force, not to mention they were faster and more modern than the Hawk II. Gladiators had an enclosed cockpit and four machine guns. Upon the arrival of the plane's parts, the pilots assembled the aircraft themselves and in January 1938, two dozen of them were ready. Sixteen other Gladiators arrived in January and were assigned to Arthur's 28th and the 29th squadron serving with him.
Most of Arthur's eventual victories were attained in the Gladiator, but he suffered three serious plane crashes with them as well. Before most of his victories, things soon took a turn for the worse. Early morning, February 9, eleven Gladiators were meant to be transported to Nanchang, north of Guangdong. However, a snowstorm messed up that plan. Royally. At first, the guiding Vought V-92C Corsair had to return mid-way because its engine started to falter. The Gladiators continued their journey, but two of them got lost and ended up landing completely off-route. Arthur got the worst of it, though. Flying low to see if he could spot a landmark of Nanchang, he crashed into a hill. He suffered minor injuries, but the Gladiator was written off. Only eight of the eleven Gladiators ended up making it to Nanchang.
Within three months, Arthur recovered and began flying again. Flying his trusty Gladiator, he shot down a Nakajima E8N single-engine two-seat reconnaissance seaplane. In June that year, he was promoted to Captain and officially received command of the 28th Squadron. He had been vice commander up until then. Not too long after, he downed another Mitsubishi G3M bomber.
On August 3rd, Art saw some of his most intense action. General Claire Lee Chennault, who rose to fame as commander of the American Volunteer Corps, the Flying Tigers, but by that time still an advisor of the Chinese Air Force, gave a detailed account of what happened. According to him, during a mission, Art "engaged three Japanese Mitsubishi A5M carrier-based fighter aircraft." When the leading plane came in for the kill, he deliberately rammed his Gladiator against it, exploding both aircraft. Somehow, Arthur suffered minor injuries and burns, but the only thing that could be salvaged from his crashed gladiator was the machine gun. When he faced Chennault after the affair, he asked him if he could "have another plane to go with his machine gun."
The Mitsubishi A5M is an interesting plane as it was much faster than any fighter in China's service. Two months after Art's encounter with the A5M, his squadron was re-equipped with the Soviet-built Polikarpov I-15 biplane. Although Arthur flew multiple missions in the Polikarpov, he appears to have never claimed any victories in it. Art eagerly hopped into his old trusty aircraft when the option to return three Gladiators into service came along.
In November 1939, he nearly shot down a Japanese Mitsubishi Ki-15 light bomber and reconnaissance aircraft. Later that month, he downed another G3M. In total, between 1937 and 1939, Art achieved nine aerial victories and he reached the rank of Major in December 1939.
The Crash
But that same month, things took a turn for the worse. Tasked with escorting three Tupolev SB twin-engined monoplane bombers, a Japanese squadron intercepted Art's squadron near Kunlun pass, Guangxi.
During a dogfight, one of the Japanese Mitsubishi's, presumably an A5M, shot the fuel tank of Arthur's Gladiator. They say bad things come in threes, and this was the third time Arthur suffered a plane crash. He managed to parachute out and survived the subsequent crash, but his plane went up in flames. Art suffered third-degree burns over most of his body and face. This meant his aviation career came to an abrupt end. To make matters worse, the military could not treat him for three days due to a lack of facilities. This delay worsened his already severe injuries, leading to a slow and challenging recovery over the next several years.
It would take years, and many men's careers would have ended at this point, but Art's wouldn't. He had received many medals by this point. Among them were the Five Star Medal, two Orders of Renaissance and Honour 3rd Class medals, the Order of Resplendent Banner with Special Rosette, Medal of Victorious Garrison 2nd Class, Awe-Inspiring Medal 3rd Grade and the Asiatic-Pacific Campaign medal.
Together with his wife and sons, they moved to family members near Liuchow Airfield. Over here, Art received treatment and slowly recovered from his burns. Now, Liuzhou was located close to the frontlines. Shortly after the couple settled down, a Japanese bombing raid targeted the airfield they resided nearby. What followed was one of the most grizzly scenes imaginable.
Hearing the aircraft approach and bombs dropping, Art's wife first took their two children to the bombing shelter. Due to his injuries, Art was immobile. His arms, body and face were wrapped in bandages, and he was unable to see. His wife was too late in getting him to the bombing shelter. Many years later, in an interview, Art recounted how Eva threw herself on him, shielding him from the shrapnel and bombing blast. She didn't survive. Art did.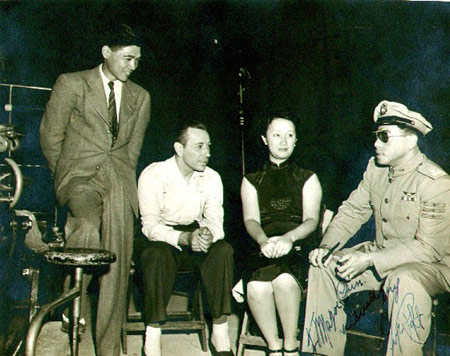 He and his sons fled to neutral Hong Kong, where Art received multiple surgeries in an attempt to restore his eyesight and mitigate most of the damage his burns caused. Still, when in December 1941 Japan attacked Pearl Harbor, he fled with his two boys across the front lines back into friendly territory. General Chennault, commander of the Flying Tigers, drafted a letter requesting urgent air transportation for Art and his family. They arrived in New York in summer 1942, where he again received extensive treatment in the New York hospital.
It took nearly two more years to restore his face reasonably. Once he gained enough strength, he made numerous appearances at war bond rallies and on the radio, speaking to increase American morale and the war effort. Some sources indicate he was briefly married to a nurse, with whom he had a daughter. They amicably divorced before 1945, though.
Art's Final Flight
By early 1945, Arthur wanted to do something more result-oriented. Although he wasn't fully recovered yet, he applied to the Chinese National Aviation Corporation, a co-owned airline by the Chinese nationalist government and Pan American World Airways. The U.S. Army Air Forces contracted the corporation to supply U.S. forces in the Pacific and Indian war theatre. Having logged over 3000 flight hours and having ample commanders willing to write letters of recommendation, Art began his airline career there.
On March 1, Arthur was officially discharged from the Republic of China's Air Force. Two weeks later, the Chinese National Aviation Corporation contracted him. From then on, he regularly flew planes to resupply American troops on the frontlines. By July, Arthur rose to the role of co-pilot, reapplying and regaining U.S. citizenship in the process. None of the sources I've read made mention of him ever losing U.S. citizenship, but I am assuming he lost it when he entered into service of the Chinese Nationalist Air Force.
Arthur was stationed in India; he flew over the Himalayas to supply troops in China. It's pretty notable that this flying route, which was fittingly referred to as 'flying the hump', was considered by some as just as dangerous as flying a combat mission over Germany. Over 300 aviators went missing in the area, never to be found again.
It wasn't all dangerous though. In India, he met his third wife. Vivienne Yang too worked at the corporation. They married in 1948 and the couple had one child, Matthew. Around the time Matthew was born, they left their jobs and returned to Portland. There, Arthur worked in a mail sorting centre of the U.S. Postal Service.
Interestingly, in 1993 the Chinese National Aviation Corporation's employees received recognition for their contribution to the American war effort. All of them received a veteran's status. Together with other former colleagues, Arthur received the Air Medal for meritorious achievement of his flights between March and August 1945.
Arthur Chin passed away on September 7, 1997. Not even one month later, on October 4, he was inducted into the American Airpower Heritage Museum's Hall of Fame as America's first ace of the Second World War. Eleven years later the U.S. government renamed a Post Office in Beaverton, Oregon after him. In his lifetime, the comic book 'China's Warhawk' was based on his exploits.
Thank you for watching this video. If there's a topic or event you'd like to know more about, let me know your thoughts in a comment. I would also like to thank all my Patrons and channel members for their generous support. If you enjoy House of History and want to support my work consider checking me on Patreon or becoming a channel member. For just 1$ a month you will gain access to the exclusive Patreon series. Don't forget to subscribe. See you next time!